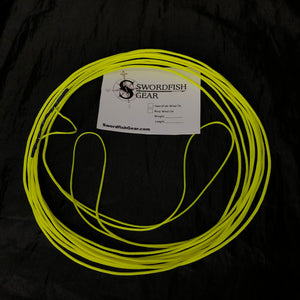 These premium buoy wind ons offer protection for your main line during the handling and attaching of the buoy assembly.  Occasionally Swordfish will also pull the buoy under and swim with it submerged.  Here is where your buoy assembly can chafe your main line resulting in a lost fish. These buoy wind ons protect your mainline from chafing during the fight as well.
The short version is good for smaller electric reels like the Miya Epoch X-8GT, Beastmasters,  Seaborgs, and smaller two speed conventional reels. The long version is best for 30w reels and larger. 
All of our premium Wind Ons are made with the double wall construction method which feeds the mono through both hollow legs to the loops. This provides superior holding power and a knot less assembly. The attachment points are made of durable dacron for longer life.